Pacific Assist Gets Busy in Vanuatu
It's been a busy few months for Pacific Assist. With the assistance of volunteers, we have loaded seven, twenty-foot shipping containers with 1,734 pieces of second-hand school furniture and 108 computers. Three of these containers will be sent to Vanuatu. The other four will be shipped to Papua New Guinea (PNG) following successful negotiations between Pacific Assist and LDS humanitarian missionaries based in PNG. In addition, Pacific Assist director, Richard McLean, spent a week in Port Vila, Vanuatu with a contingent of education professionals visiting local schools to assess strengths and needs. These visits were in preparation for selecting principals to undertake a professional development mentor program partially sponsored by Pacific Assist. "It's been a very busy period for us," Richard said, "But we are very happy with the results. Not only have we been able to provide desks, chairs and computers, we've also been able to visit nine schools in Port Vila and get a real feel for the challenges they face."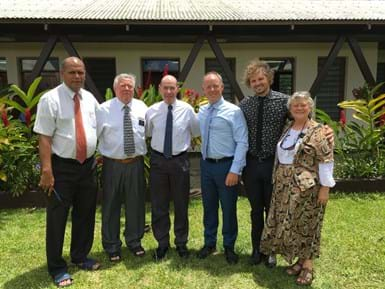 In Vanuatu, representatives from the Ministry of Education and Training and humanitarian missionaries from LDS Charities will load and transport the donated furniture to schools located across the islands that make up the Vanuatu archipelago. Carlos Roundy, a humanitarian missionary based in Port Vila says, "You can't explain the difference this makes in the lives of these children. They have so few resources, and it's just fantastic to see their learning environment improved in this way." Director of Education Services in the Vanuatu Ministry of Education and Training, Roy Obed, indicated that with the ministry's success in raising the level of school attendance, schools, particularly those in outer islands, were now struggling with a lack of resources. The second-hand furniture being supplied by Pacific Assist and LDS Charities will help to alleviate this challenge.
Accompanying Richard in Port Vila was Victorian principal, researcher, and education consultant Andrew Jones. With support from the Vanuatu Ministry of Education and Training and LDS Charities, Pacific Assist and Andrew Jones are establishing a six-month principal development pilot program for three Port Vila principals. Andrew's work with the Science of Learning Research Centre (SLRC) at Melbourne University, his role facilitating the Science of Learning Network of Schools (SoLRNoS), and his research emphasis on improving learning and teaching leadership place him in a unique position to partner with Pacific Assist in this endeavour. Speaking of Andrew, Richard commented "I've seen first-hand what Andrew was able to accomplish as a principal with struggling students in Melbourne. Having seen the love of learning infused in the students of his school, it seemed only natural to invite him to assist us make a difference for schools facing significant challenges in the South Pacific."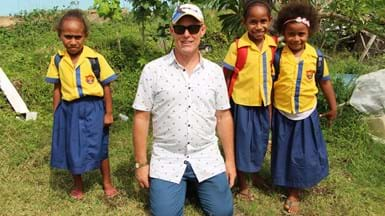 The Port Vila pilot program will involve establishing a professional mentor relationship with three Victorian based principals, as well as access to a range of other professional development resources. "We know," says Andrew, "the best way to improve outcomes for students is to improve teaching, and the best way to improve teaching is to improve teaching and learning leadership. Principals are the teaching and learning leaders of the school, so that's why we are starting with them." Following their involvement in the pilot program, the Port Vila principals will be invited to mentor another three Vanuatu principals utilizing the same model used in the pilot. In this way Pacific Assist hopes to add to the local capacity to foster professional development utilizing world's best practice. If the results from the pilot program are positive and make a difference in teaching and learning practice, then Pacific Assist would look to establish similar programs in other provinces and in other south pacific nations. "We hope this is just the beginning of a long-term partnership and friendship with the people of Vanuatu," said Pacific Assist director Riki Tukukino. To learn more about Pacific Assist, visit the website. To donate furniture click here.
Frontier Financial and Pacific Assist would like to acknowledge all the schools who have been so generous in contributing furniture and supporting the whole loading and collection process. Principals, teachers, and other support staff were very helpful in providing access for Pacific Assist volunteers to take inventories and photos, arrange for shipping containers to be delivered and collected, and to load containers. Their support has made a significant difference.