30's-50's
Family Growth & Wealth Creation
Plan for your future, today.
Make a time to speak with one of our experienced advisers.
Building a career especially while raising a young family is an exciting yet challenging endeavour. Many are juggling mortgages and significant expenses, while trying to find opportunities to build financial security.
Make sure you have the right insurance and superannuation plans in place today when planning for your tomorrow, and take purposeful steps towards a truly rewarding future with the experts at Frontier Financial Group.
---
Key considerations for this life-stage:
Wealth creation

Managing debt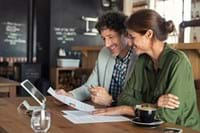 Testimonials
Words from our happy clients.
Embarking on your career and family years
It's never too early to start planning your future journey – but it's understandably not a priority for many, given the competing demands on your time and finances during the foundational years of your career, from children to friends, leisure and keeping fit. You may already be saving indirectly for retirement, if you're paying down a mortgage.
Nonetheless, a great place to start at this stage of life includes understanding the importance and rules of minimising tax, salary packaging and insurance – and potentially increasing your superannuation contributions whenever you succeed in securing a pay rise. You might also want to consider investing out of your superannuation.
---
Did you know that the average super balance for those aged between 30 to 40 is $65,000? And for those aged between 40 to 50, it's $145,000.
If you're a couple looking to retire comfortably on a combined income of $80,000, you'll need $1.3M to $1.8M in super (depending on whether you are taking the aged pension, or becoming a self-funded retiree). Similarly, single people seeking a comfortable lifestyle of $50,000 a year would need between $800,000 to $1M.
That can be a big gap to bridge. Thankfully, we can help build your wealth using particular wealth creation strategies, that include the following:
Salary sacrifice
Deductible contributions from savings
After-tax contributions
Consolidating your super
Super fund comparison (low fees, high returns)
Minimise tax
---
Arrange to talk to one of our friendly advisers today, and put your best foot forward with
Frontier Financial Group.
Our
latest thoughts
Up-to-date insights, tips and perspectives from our team.
Our financial advisers will help you
achieve financial freedom and security 
---