60's-70's
Set yourself up for the retirement you want
Make a time to speak with one of our experienced advisers.
Will you have the time and resources you need to relax and enjoy your journey to the fullest throughout your retirement?
Perhaps you're looking to downsize, or have faced expenses due to circumstances beyond your control. Whatever the case, making sure you have your financial affairs well in hand is essential to making your retirement all it could be. Reap the benefits of forward thinking with Frontier Financial Group.
Key considerations for this life-stage:
Wealth consolidation

Debt elimination
Estate and retirement planning

Creating an income stream for retirement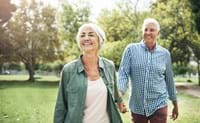 Testimonials
Words from our happy clients.
These years become a time where you can enjoy the benefits of years of hard work, where you can access your super, travel, pay of remaining debts, enjoy the time away from work and spend more time with family. However, one risk when retiring is ensuring your income allows you the lifestyle you desire. A well-placed plan, that takes advantage of your situation can aid you in having a sufficient amount of income and help to keep your wealth growing at a rate that can prolong your income.
---
You may have paid off your children's education and your home. And considering what you will do in making the rest of your journey the most rewarding it can be as you transition into retirement. Entering into retirement doesn't have to be a sudden stop in work either. There are strategies available that allow you access to your super while you're still working. This allows you to slowly ease out of work, lowing the number of days you work each week, easing you into living solely off your super and retirement assets.
This can also be a time where you are thinking about leaving an inheritance for your loved ones. You may have thought about how you can pass on your wealth in the most tax effective and efficient way.
With a plan from one of our financial advisers we can help you pass on your wealth in tax effective means and aid in having your wealth given to the correct people, maximising the inheritance given and minimising the potential of disputes.
Staying the course
Did you know that the average super balance for those aged 60 to 70 is $270,000?
That may sound like a lot, but if you're a couple looking to retire comfortably on a combined income of $80,000, you'll need $1.3M to $1.8M in super (depending on whether you are taking the aged pension, or becoming a self-funded retiree). Similarly, single people seeking a comfortable lifestyle of $50,000 a year would need between $800,000 to $1M.
This can be a big gap to bridge. Thankfully, we can help build your wealth using particular wealth creation strategies, that include the following:
Salary sacrifice

Deductible contributions from savings

After-tax contributions up to $300k

Consolidating your super

Income stream tax benefits
---
Arrange to talk to one of our friendly advisers today, and ask more from life with
Frontier Financial Group.
Our
latest thoughts
Up-to-date insights, tips and perspectives from our team.
Our financial advisers will help you
achieve financial freedom and security 
---