50's-60's
Ensure you're on track to enjoy your golden years
Make a time to speak with one of our experienced advisers.
You've worked hard and are thinking about what comes next. You may be seeking to get the most growth from your savings or assets, or to secure an inheritance for your children. You may even be required to draw down on your wealth to support your own parents in their advancing years, or adjust to changing work conditions.
During this stage of life, making sure your financial affairs including your super are well in hand is critical. The best time to plan for your retirement is while you're actively growing your wealth. Ensure your retirement planning is on track with Frontier Financial Group.

Key considerations for this life-stage:
Superannuation

Growing wealth
Debt elimination

Estate and retirement planning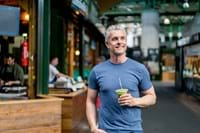 Testimonials
Words from our happy clients.
The prosperity-building years
At this stage of life, you may be in the peak earnings phase of your career, transitioning between paying off debts and accumulating wealth. This is a critical time for making sure you're taking the right steps to achieve your ideal future lifestyle.
It can also be a great time for increasing any voluntary super contributions you may already be making, especially as your income increases. It's a time where people begin to pay off all their debts, mortgage and credit cards and prepare for what they need to do between now and when they retire.
---
Planning your future path
Did you know?
Did you know that the average super balance for those aged 50 to 60 is $237,000?
That may sound like a lot, but if you're a couple looking to retire comfortably on a combined income of $80,000, you'll need $1.3M to $1.8M in super (depending on whether you are taking the aged pension, or becoming a self-funded retiree). Similarly, single people seeking a comfortable lifestyle of $50,000 a year would need between $800,000 to $1M.
---
This can be a big gap to bridge. Thankfully, we can help build your wealth using particular wealth creation strategies that include the following:
Debt reduction

Deductible contributions from savings

After-tax contributions

Consolidating your super

Super fund comparison (low fees, high returns)

Investment options
---
Arrange to talk to one of our friendly advisers today, and go further on your journey with
Frontier Financial Group.
Our
latest thoughts
Up-to-date insights, tips and perspectives from our team.
Our financial advisers will help you
achieve financial freedom and security 
---